Here are the best high-fiber dinner recipes that will have your mouth watering.
Pasta is always a great go-to meal when you want something comforting and hearty for dinner.
So how do you make this a high-fiber meal? This creamy dish is made with a few simple greens: peas and broccoli.
Besides vegetables, using wholemeal pasta is the perfect way to increase your daily fiber intake.
Not only is this pasta better for your health, but it will also leave you feeling fuller for longer. Nutmeg and parsley are added to the dish to complete the dish and flavor the sauce.
Lentils are a type of legume, which makes them perfect to have in your back pocket for a high-fiber and low-carb meal.
Not only do they have a number of health benefits, but they are also a fantastic ingredient to use to make a tasty curry.
A dal is a traditional Indian curry made with red lentils, the curry is thick, creamy, and has plenty of flavors.
When you need to make a quick curry for a group of people, many of them are likely to have different dietary requirements. Enter, the humble dal!
With plenty of protein and fiber and completely plant-based, this curry can satisfy the whole dinner table. Serve with some rice and naan bread for an authentic Indian meal.
Carbonara is famed for that delicious creamy sauce that will have you dreaming about it all day long.
We love this recipe as a sprinkling of wholewheat panko bread (see also: 10 Superb Low-Calorie Bread Recipes Everyone Will Love!)crumbs is added to the top of the completed dish for the ideal crunch.
Peas and spinach are an ideal source of roughage and wholewheat pasta can be used for even more fiber.
The simplicity of the dish means you can experiment with all your favorite ingredients. Why not try adding some cooked salmon or chicken breast?
For a quick and easy dinner, full of protein and fiber save this carbonara dish for later.
Buddha bowls are one-bowl meals that are usually vegan or vegetarian. These are a great way to hit all the different food groups to have a healthy and balanced meal.
This recipe uses sweet potato and chickpeas to provide you with all the fiber you need.
A beautiful sauce can be made to go on top of the main ingredients using tahini, maple syrup, lemon, and hot water.
If you can't eat it all, then do not fear as buddha bowls can be eaten hot or cold and still taste great. There's lunch tomorrow sorted.
Fajitas for dinner? This is probably music to everyone's ears. For a super healthy version of the dish, the wraps are gone and the sauces have been replaced with a lime and cilantro black bean mixture.
Chicken breast is cooked in a number of herbs and spices to give it a beautiful coating and plenty of flavor.
Bell peppers are also made with plenty of spices and chilis to give them a kick. Adjust the amount of heat to your liking by using a milder chili if needed.
For those looking for a low-carb, high-protein, and high-fiber meal then this should be your new go-to.
Burgers? Yes, please. No matter the season or occasion, burgers are always a winning weeknight dinner.
The mixture of sauce, patty, carb, and filling all come together in your mouth to create a sensational experience.
These spicy black bean burgers are packed full of fiber and seasoned to perfection.
The chipotle mayo is easy to make at home by mixing chipotle chile and mayonnaise together. If you want something slightly meatier, add a few strips of bacon to the burger.
Serve with sliced avocado and enjoy!
Chickpeas are one of the most versatile ingredients out there. If there are a few fussy eaters at the table, don't worry as the mashed chickpeas won't give you away.
Perfect on a winter's day, this stew is easy to make and so hearty and delicious it's just what you need.
With plenty of vegetables and lean ground turkey, this meal ticks all the boxes. It's full of protein, fiber, and it's super low in sodium.
Turkey and Parmesan can be removed from this recipe to make it suitable for vegans. Alternatively, swap these for vegan substitutes.
Bored of your normal baked potato recipe? Then we've got the perfect dish for you!
Baked sweet potatoes are just as delicious (see also "10 Easy And Delicious Sweet Potato Toast Toppings") as regular potatoes and it also means they work with a number of ingredients you may not normally pair together.
Inspired by the fresh produce from the Mediterranean coast, these sweet potatoes are packed full of fiber and protein.
A creamy garlic and herb sauce is made with plenty of hummus and tangy lemon to drizzle over the top.
This recipe is so simple, yet so effective. Top the potatoes with fresh juicy cherry tomatoes and chopped parsley to finish it all off and serve.
Chili is a classic dish that everyone loves, no matter your dietary preference. This dish can be adapted to any family and suit any taste!
This bean and pepper chili is vegetarian, low-fat, and full of fiber from the beans.
Although this recipe calls for many ingredients you'd find in a normal chili, it does sneak in some extra heat with chipotle sauce and a Tabasco topping.
Serve with lashings of sour cream or vegan yogurt to create a dreamy creamy dinner.
Mexican food always hits the spot, but sometimes it isn't the healthiest. This enchilada recipe won't leave you feeling full or greasy, it will leave you feeling happy and satisfied.
The homemade enchilada sauce is what sets this recipe apart from the others.
As the sauce is homemade, this recipe may take a little longer to do than others but the results are worth it.
The chicken and vegetable mix on the other hand is super easy to do and just requires a little cooking in a pan.
Serve with any sauces you desire, but the enchilada sauce should be enough to satisfy the whole table!
Beans are probably one of the best sources of fiber out there. So what better way to get your fiber intake than with a three-bean salad?
If you've not heard of this classic dish, the three beans included are kidney beans, green beans, and garbanzo beans.
As you can imagine, this is super easy to make and full of goodness. The salad is flavored with cider vinegar for a little tang and some sugar to contribute some sweetness.
Serve this alongside any protein such as some grilled chicken breast for a hearty, healthy meal.
Do you like making your own pizzas? If you do then it's time to try making your own calzones.
This high-fiber recipe uses ricotta, Parmesan, and spinach to make a delicious creamy filling. Chicken breasts are added for a well-needed dose of protein.
Whole Wheat bread dough is used to make the pizzas, as it's not a traditional flat pizza this will work just fine.
Calzones aren't famed for their pretty outcomes, so don't worry if it doesn't look perfect because they will taste amazing!
This mac and cheese recipe will blow your mind. It has everything you could want: cheese, pasta, spice, meat, and sour cream.
The kidney beans and whole wheat elbow noodles give the dish plenty of fiber. Whilst ground beef covers the protein.
Plus, all of this can be ready in around half an hour making it perfect for a mid-week meal or a lazy Sunday dinner.
Turkey meatballs are a leaner alternative to other types of meat which make them lower in fat.
Combined with mushrooms, oats, garlic, and spices, this dish contains much more fiber than a traditional spaghetti and meatball recipe.
Using whole-grain pasta and a fresh tomato sauce, you have the perfect balance of healthy dinner and delicious flavors. Linguine is used here, but any pasta will do if you fancy making the recipe your own.
For a high-fiber vegan alternative to meatballs, this recipe uses just five ingredients to make a delicious meal.
Made with black beans or pinto beans, there is plenty of roughage and fiber in this recipe. Garlic and salt are used to add simple yet authentic flavors.
Oats or almond flour can be used to add crunch to the meatballs depending on your requirements.
These meatballs are perfect to serve alongside wholewheat pasta, fresh cherry tomatoes, and some vegan cheese sprinkled over the top.
Conclusion
There you have it, the best high-fiber meals you can eat. These recipes can easily be catered to suit a range of diets.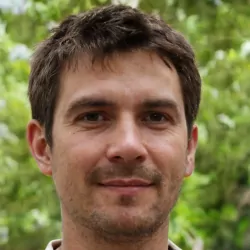 Latest posts by Justin Roberts
(see all)